FIGHTING A TOUGH SKIN CONDITION?
Equiderma has the right product for you.

SELECT A SKIN CONDITION TO LEARN MORE
(WARNING: SOME IMAGES MAY BE GRAPHIC)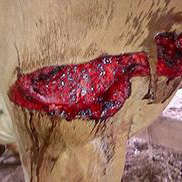 Regardless of the cause, all wounds must be cleaned and kept free of dirt and debris. Daily washing with anti-bacterial soap and the application of Equiderma Calendula Wound Ointment, will guarantee a successful outcome for your horse.